Beat the elements and transform your yard into an outdoor oasis!
Do you have a sun-drenched patio or deck that becomes uncomfortably hot? Carter Fence has the solution you need — a SunSetter retractable awnings! Research shows temperatures under a SunSetter awning can be nearly 20 degrees cooler! Delivering durable protection from the heat of the sun, passing rain showers, damaging UV rays, SunSetter awnings give you flexible options for maximum outdoor comfort.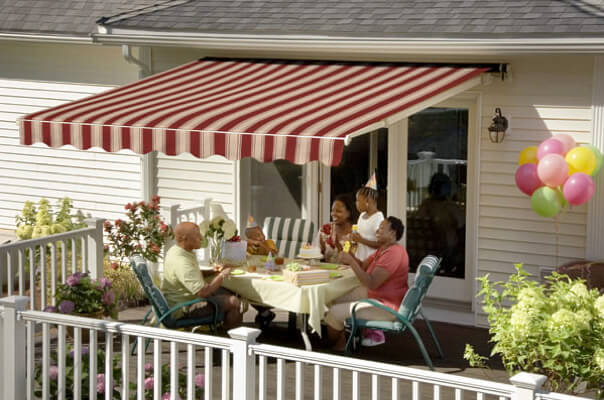 Call Now & Save on Professional Awning Installation & Services
Let Carter Fence help you save big on your next awning installation project in Northern Virginia! In addition to offering free estimates and on-site project consultations, we can help you save money, too.
Find ways to save by giving us a call today!
Our Awning Installation Services
Carter Fence begins your SunSetter awning installation by conducting a free on-site consultation and preliminary estimate to provide you with the most reliable information about our services. The process takes two to three weeks from estimate to completion, and the actual awning installation only takes about 3 hours.
Each SunSetter awning can be manually hand cranked or motorized for easy opening and closing. You can place the remote control inside your home or outside for convenience. SunSetter awnings can be designed to fit spaces from 8 – 20 feet and can be made in a variety of colors and styles.
Awning Fabrics
Get outdoor beauty and value without compromise. Your SunSetter awning is made of a 100 percent solution-dyed, water-repellent acrylic fabric with a durable woven texture. This incredible fabric is available in an extensive selection of beautiful colors and patterns. See our full complement of colors and fabrics below.
*All woven acrylic colors are available on the Motorized, Motorized XL, VISTA, and SunSetter Oasis Models Only. (Note: The Oasis comes with a straight, not a scalloped valance.)
Schedule Your FREE Consultation Today
Schedule your FREE consultation for an awning installation today by calling Carter Fence.
Contact us online or by phone at 703-255-0824!