Installing aluminum fences throughout the McLean, Arlington, Great Falls, Aurora Highlands, and surrounding areas in Northern Virginia.
Many people in the Northern Virginia area choose aluminum fencing because of its high-end look and durability. At Carter Fence, we provide fast, friendly service and have been doing so since 1975. We have the experience and expertise to design and install your fence properly. Our experts can help you come up with the perfect fence design for your yard—and make sure it is aesthetically appealing as well.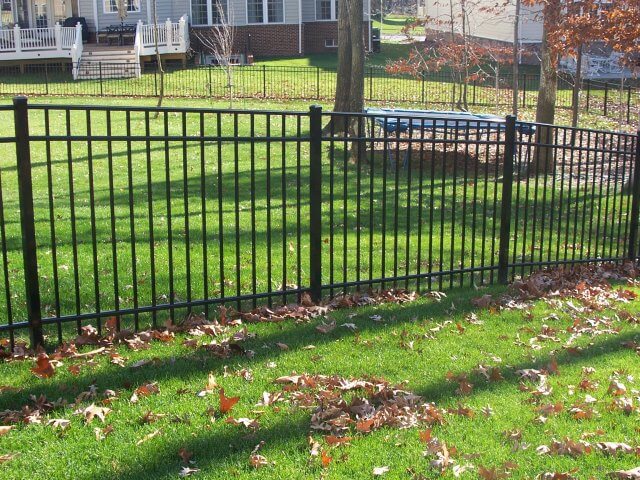 Call Now & Save on Aluminum Fences
Find ways to save by giving us a call today!
Save on Your Aluminum Fence Services
Let Carter Fence help you save big on your next aluminum fence installation project or service! In addition to offering free estimates and on-site project consultations, we have great savings, too. Don't forget to check out other ways you can save!
The Benefits of Aluminum Fencing
There are many benefits of aluminum fences! Not only does installing an aluminum fence add value to your home, but they are also:
Beautiful –

 aluminum fences are undeniably beautiful—they add a refined look to any backyard, and they can be customized to perfectly suit your tastes and style. Check out our images below to see some examples of the gorgeous aluminum fences we have installed.

Durable –

 you can depend on your aluminum fencing for years to come because aluminum is strong, and it doesn't rust.

Low-maintenance – 

unlike iron, which can rust and requires a lot of maintenance, your aluminum fencing shouldn't require very much maintenance to keep it looking as beautiful as the day it was installed.

Affordable –

 aluminum fencing costs a lot less compared to traditional wrought iron, but aluminum can still add high-end beauty to any yard.

Secure – 

aluminum fences are much more difficult to scale than a traditional wood fence—especially because most aluminum fencing is over 5 feet high.
Contact us today to schedule a free consultation and find out if aluminum fencing is right for you!
Fence Installation & Repair
If you're shopping around for the perfect fence, make sure you do your research on all of your fencing options! If you don't have the time or resources, let Carter Fence help! We can inform you about your fencing options and help you to make an informed decision and then help you design and plan your project. At Carter Fence, we offer a number of different fencing options other than aluminum, including but not limited to:
Schedule Your FREE Consultation Today
Schedule your FREE consultation for an aluminum fence installation today by calling Carter Fence.
Contact us online or by phone at 703-255-0824!