Providing fence installation services throughout Northern Virginia
Privacy fences have become increasingly popular in the Northern Virginia area and are especially common when fencing in a yard with a pool or a townhome. No matter your reason, they are a beautiful way to turn your backyard into a secluded oasis! At Carter Fence, our expert team only uses the finest materials and the most advanced installation and design techniques to ensure you get the best fence for your needs.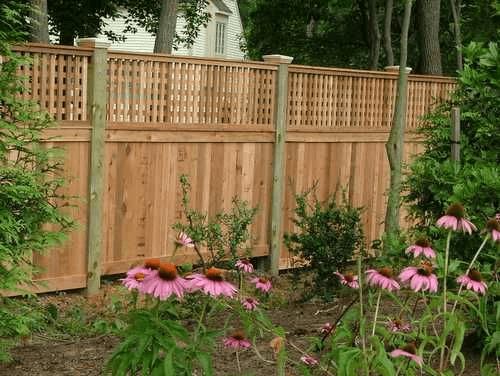 Call Now & Save on Privacy Fences
Find ways to save by giving us a call today!
About Our Privacy Fence Installations
Privacy fences are available in heights up to 10 feet, and can be built to offer:
Complete privacy –

 fences that offer complete privacy include boards that are placed side-by-side to create a seamless wall separating your yard from the outside. Usually, these privacy fences are taller in height, from 6 – 10 feet.

Partial privacy –

 a very popular option for people who want to add privacy but still allow for airflow and sunlight is a partial privacy fence. These can have a staggered board structure or decorative elements such as lattice that allow filtered light to pass through. Generally, these fences are 5 feet and above.
When you schedule your privacy fence installation with Carter Fence, we will set up a free on-site consultation and estimate at your Northern Virginia home to determine the scope and cost of your project. Once that has been completed, we can move forward and schedule an installation date. Your privacy fence will be installed by professionals using only the highest quality materials. You can depend on us to install a beautiful fence you can rely on for years to come. The length of the installation will depend on the size of the fence being installed, so call us today for more details!
Benefits of Installing Privacy Fences
There are a variety of benefits a home and its homeowners gain after installing a privacy fence, including:
Protection

 – A privacy fence provides protection not only for your family but also for your pets. Having a privacy fence around your home offers privacy to you and your guest during get-togethers, and it also gives a clear indication to neighbors where your property starts and ends.

Noise control

 – When you use proper materials, a privacy fence can act as a barrier for unwanted outside noise.

Maintenance

 – It is easy to wash and maintain a privacy fence, so it involves little upkeep from the homeowner. They are also easy to stain and paint to fit seamlessly with the current color scheme of your home. Privacy fences are designed to last a long time. If a single board is damaged, it is easy to replace the one board instead of having to make repairs to the entire fence system.

Variety

 – Another great thing about the privacy fence is the wide array of styles and materials available to build it. This can make it easier to find a color option to suit your needs.

Adds home value

 – Your home value will increase because of the four benefits listed above. Also, a privacy fence naturally adds beauty to any home making it an ideal addition when updating a home before putting it on the market.
Schedule Your FREE Consultation Today
Schedule your FREE consultation for a privacy fence installation today by calling Carter Fence.
Contact us online or by phone at 703-255-0824!